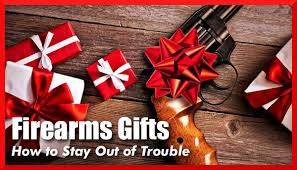 Gifting (or selling) a Firearm Across State Lines
By Danielle Wall
Birthdays, holidays, anniversaries, graduations, other special occasions, or just because you want a loved one to be able to protect themselves, here is what you need to know about gifting a firearm across state lines.
The transfer of a firearm across state lines must be done through a Federal Firearm Licensee (FFL) if you want to gift a firearm to someone outside of your home state. This is because federal law is going to govern any transaction that occurs across state lines. An FFL includes gun stores with the license to deal firearms as well as firearm manufactures and licensed gunsmiths. Typically, there may be a small fee in arranging this transfer, but it is the only way a transfer can legally be done between residents of different states.
If you want to make a gift of a firearm to someone outside of your home state, you must take the firearm to an FFL and arrange to have it sent to an FFL in the gift receiver's home state. Both the gift giver and the gift receiver will want to make sure this transaction happens through the proper channels of an FFL, even though there is no sale occurring. Both parties are guilty of a Federal Felony punishable by up to 5 years in prison and a $5,000 fine if a direct transfer is made without using FFLs.
So, even though the element of surprise is always great when giving gifts, when it comes to gifting a firearm across state lines, the surprise is not worth the potential consequences if the transfer is not done properly. You must go through an FFL in your home state, and the home state of the gift receiver. To find an FFL in your area, you can simply Google: "find an FFL near me" and choose the location which you prefer.
Get in touch

"*" indicates required fields
Copyright © 2023 The Firearm Firm All rights reserved.